Top 5 Lessons about Wireless in Healthcare
Meet our guest blogger: Eric Abbott is a technology executive with a deep understanding of healthcare IT and telecommunications infrastructure. With over 20 years of experience, Mr. Abbott is responsible for leading product management initiatives at ExteNet Systems. Prior to joining ExteNet Systems, Mr. Abbott served as a Senior Product Manager for Motorola, Inc. There, he led the development of advanced applications and communication systems for healthcare, public safety agencies, and enterprise customers. His background also includes medical informatics, healthcare IT, business strategy, operations, and systems engineering.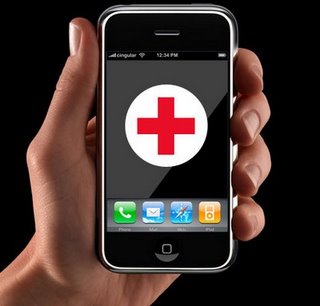 The convergence of healthcare IT with wireless technology has achieved tremendous strides in improving access to care, timeliness of care, patient safety, and the quality of care. Indeed, real-time, contextual access to the healthcare enterprise EMR has enabled new delivery method paradigms, as evidenced by the rise of mobile health modalities. Healthcare vendors have responded with a rich suite of new products, applications, and services to create an infrastructure environment of connectivity between people, things, and processes, thereby promoting continuity of care between a healthcare organization's EMR and wireless medical devices and instruments. Examples range from biometric machine-to-machine (M2M) medical device sensors that form body area networks to applications running on a commercial wireless device such as an iPhone or iPAD.
Healthcare organizations dealing with the world of wireless have learned the following top 5 lessons.
1. Security and privacy is paramount.
Physical, technical, and operational safeguards are critical necessities when dealing with multiple families of wireless devices. Bring your own device (BYOD) practices enhances potential vulnerabilities, and reliance on native security and privacy methods is not prudent given strengthened HIPAA requirements and emerging requirements.
2. Sizing and selection of infrastructure is critical towards assuring high levels of availability to users.
Wireless technology offerings have evolved beyond Wi-Fi. Healthcare organizations must understand how to use and select broadband technologies such as 4G LTE and Bluetooth inside and outside the 4-walls of the hospital.
3. Financing of wireless services is a reality.
Traditional, fixed capital Wi-Fi based systems are yielding way to hybrid wireless systems that include commercial wireless service offered by public wireless carriers. Financing of commercial wireless infrastructure given their up-front capital and recurring operations costs is an important consideration from an operations standpoint.
4. The extent of offered wireless services is a key consideration.
Potential interference, inherent capacity limitations and constraints, and assured interoperability between wireless systems mandates intelligent wireless management methods such as service access control and network access control.
5. HIT workflow and technology integration is fundamental for success implementations.
Semantic interoperability between end-processes requires rigorous integration practices that include attention to latency, throughput limitations, and other technical metrics. Additionally, clinical workflow integration from a cultural and organizational standpoint is necessary via training and best practices process methods in order to facilitate adoption. In turn, these achieve operational efficiencies and thus the expected return on investment.
Want to read more on wireless in healthcare? You can read our last M2M healthcare post, "An Introduction to M2M and Healthcare," here.