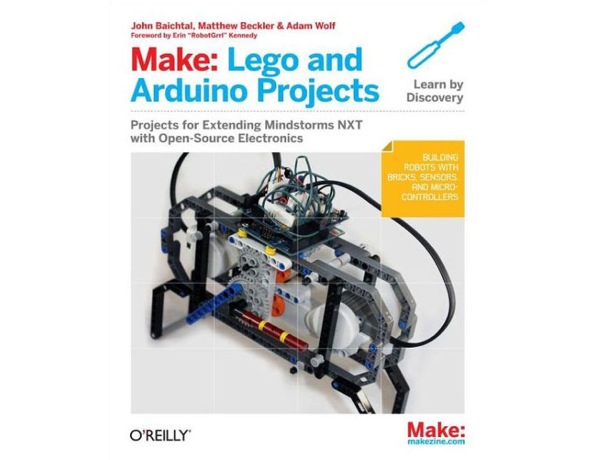 We're truly lucky here at Digi International to host some of the most innovative minds who are leading the inception of the Internet of Things. Today, we're sharing the story of Adam Wolf, a Firmware Engineer at Digi Design Services and a recently published author of Make: LEGO and Arduino Projects: Projects for extending MINDSTORMS NXT with open-source electronics.
Adam came to Spectrum Design Solutions last August from Lockheed Martin. He usually works on embedded Linux projects on drivers as well as front-end programs on small devices.
The Motivation 
Adam works on two or three projects a month, so his skills touch a vast range of solutions. One of the most recent products he worked on is a hand-held style medical device designed to read ion concentration from sweat that can detect diseases. He also worked on an Android tablet for a company that had their own audio chip for background noise cancelation for a phone. "The projects come in and you work on them and then they leave fast. So, you get to work on tons of different projects and there's brand new stuff all of the time," Adam said.
Before working on all of the various projects at Spectrum, Adam was still craving more hands-on time. So, he and Matt Beckler started a side project, Wayne and Layne. Through this side project and attending Maker Faire each year, he realized that elementary school kids had obtained incredible skills through the Lego League program. They could make complicated RC project with motors and sensors. But, parents were having a hard time stimulating these skills when the school year was over. Adam identified that parents had no way to get their kids working on projects and that expanding knowledge was a problem.
Co-Author and writer for Wired and Make, John Baichtal, also wanted to make a more technical project hooking up Arduino and Lego. They met at a local hackerspace and did 5-6 projects that had the widest spread in complexity. In their book, those topics are introduced in order. The first project is a "draw bot" that drives around your table and draws lines. One of the last projects, the Gripper Bot, is a complex tank with an arm that uses six motors and four XBees.
'Making' Accessibility 
In addition to teaching and sharing knowledge, Adam has worked to increase simplicity and accessibility. One year, while working with many schools and camps, Wayne and Layne created a kit that was a word game with a small LCD on it to be programmed on a computer. When they went to do the programming, the school computers were locked down. IT was trying to give admin rights on the computers, but after much time and frustration Adam realized that he needed to make a project where anyone with a PC could gain access. Blinky Grid and Blinky POV were born. Now, you can link your kit up on your monitor and press the button on the webpage and it blinks squares back– the timing of the blinks wirelessly programs. Once the device is on a website, you can open it from anywhere.
Early Inspiration and Community Impact
For as long as he can remember, Adam has wanted to make electronic toys. In sixth grade, he and Matt Beckler put their paper route money together and bought a Parallax microcontroller kit. "We build it and ran it in DOS [Basic], and we were so excited. But, after about three hours, we realized that we couldn't do much more with it. There were no magazines or resources for kids. We didn't know anyone who knew about microcontrollers. That's why I'm happy to be a part of fixing that problem for kids today. It used to be so hard– even if you had the money to enter the arena. Now, with the Internet and hackerspaces, people will gladly teach you for free."
With Adam working hard himself to inspire and tech kids about electronics, he has his own set of mentors that motivate his mision. In the DIY community he finds Evil Mad Scientists efforts to be exciting. And, closer to home, Adam looks to his wife, a teacher, for techniques on clearly explaining projects. "If I can explain it to a fifth grader, I can explain it here at Digi or through a webpage," Adam said.
If you would like to connect with Adam you can find him on Twitter on his personal account @AdamWWolf and @Wayne&Layne. If you have questions about this post, questions for Adam or interviewee suggestions please leave them in the comments section below or follow us on Twitter.
Tags:
Arduino
,
community
,
DIY
,
Lego
,
Make
,
Spectrum
,
xbee