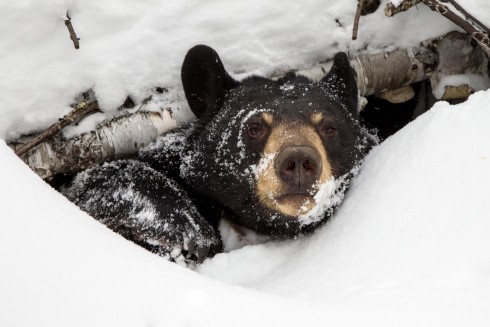 We're extremely excited for Digi's Special Products Development Manager, Jim Stroner. His photo of this black bear, Lily, was named the 2013 Winter Nature Photo Contest and is featured on Science Friday. Jim is a volunteer research assistant with the Wildlife Research Institute (WRI). As part of their research, Jim, using Digi technology, along with the Institute, set up "den cams". You can even watch Lily and the other bears with the den cams via the WRI website in real time. Their activity is streamed live using the Verizon Wireless 4G LTE network and a Digi wireless router. You can read more about the live stream and see a video on Verizon's blog here.
The votes are in, and we have a winner of our 2013 Winter Nature Photo Contest. Jim Stroner, of Minnetonka, Minnesota, takes first place for his shot of a black bear emerging from its den.

"Lily" as she's known, is one of several bears that scientists at the Wildlife Research Institute have been studying and watching via a "den cam." She gave birth to her third litter this past January. Stroner, who's a volunteer research assistant with WRI, says he got the shot during a recent visit to see Lily and her cubs where they live in the woods near Ely, Minnesota.

"We went out there after the cubs were born to adjust the position of the [den] camera a little bit. It's a brush pile den, and the camera goes through the side of the den. I saw her inside," Stroner says. "We saw her get up like she was going to move towards the opening. I moved to the other side of the brush pile and laid down in the snow and waited for her to poke her head out through the den opening." When she did, he was ready with his camera.

Although he's been taking photographs since he was a kid, Stroner says he was "kind of surprised" that he won. "I wasn't really planning on entering the photo, but my wife is a big Science Friday fan," he says. "She told me I needed to put something in there. So I thought, I'll enter it and see what happens.
You can also see more of Jim's photos on his website here. And, just in case you have questions about bears– like do they have nightmares– WRI is telling all on Twitter.
Tags:
photo
,
research
,
Science Friday